2019 marks our 20th year serving Arizona.  Over the years, we have been fortunate enough to be acknowledged by multiple publications and organizations.  We have received #1 rankings 8 times, include the last 4 consecutive years.  Beyond that, we have been ranked in the top 10 in the following categories 19 times in our 20 years: Outdoor Design/Build, Landscape Design/Build, Commercial Landscaping, and Outdoor Design Remodel.  
"Creating and building are in our DNA.  We have a well-established design group that is constantly innovating.  This pushes our construction division to be learners.  The convergence of the two…naturally separates us from those who don't travel the same path."
"We want to keep developing our niche.  Excellence doesn't rest on past accomplishments…We feel we can get better and we will."
"We've been working on our craft with a highly devoted team for a lot of years.  A long-standing team loaded with talent at every facet of the business has given us the chance to consistently live up to our clients' expectations."  
"Our core values are woven into the fabric of this organization.  The refining process through the years has allowed us to weather the high and low tides of the economy without sacrificing our commitment to excellence.  Our core values buoy us.  This is the life blood of Blooming Desert."
Blooming Desert is the only company to have been featured on and won multiple episodes of HGTV's popular show, Landscaper's Challenge.  We were fortunate enough to be selected for the first episode ever filmed outside of California.  
We are often sited in articles ranging from design ideas to trends to discussions relating to market conditions.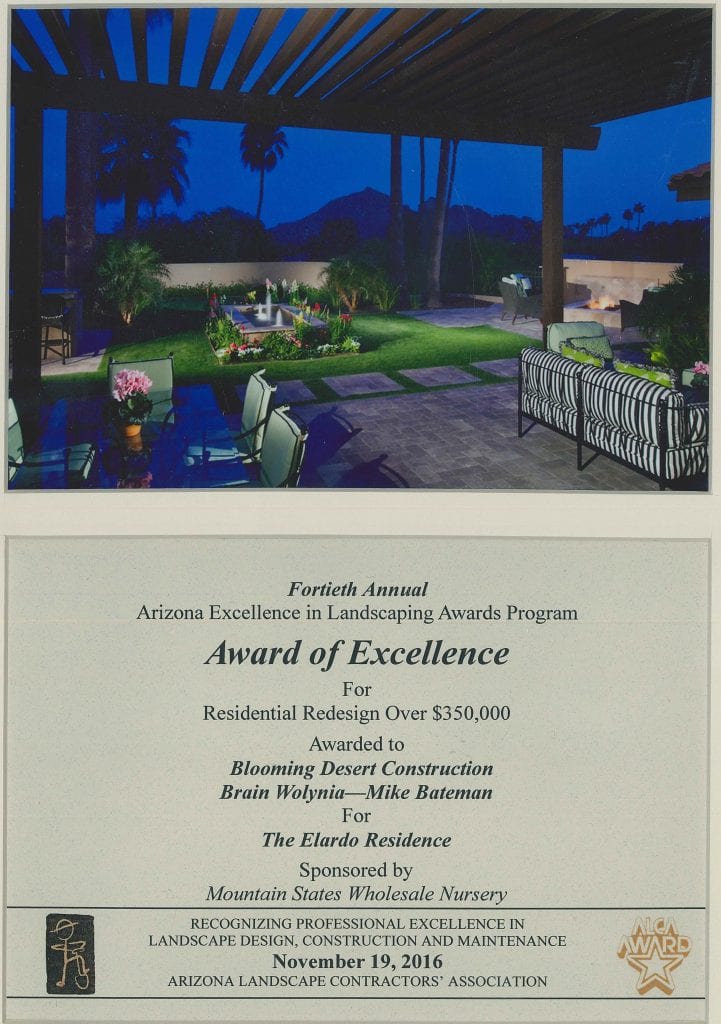 A couple of our recent ALCA awards for the over $350,000 and over $500,000 project categories.