PROJECT NAME: Brooklite Lane
DESIGN CONSTRAINTS:
Create a livable courtyard, use multiple textures, take advantage of sunset and desert vistas, create privacy
DESIGN ELEMENTS:
Pool, 360˚ Knife-Edge Spa, Glass Tile, Flagstone, Smooth-Troweled Acrylic Decking, Artificial Lawn, Pentair Laminar Jets, Pottery, Steel Agaves, Stone Veneering
We worked with our clients to create an outdoor space that allows them to take advantage of the desert's beauty year-round.  Every corner of this yard is intentional.  Once completed, this small section of the rugged Sonoran Desert became a clean, colorful and contemporary space that reflects both our clients' personal style and the serenity of the surrounding desert.  
The raised spa is wrapped in a neutral-toned 1×1 glass tile and is placed at the confluence of all of the yard's predominant sight lines.  The 360˚ knife edge on the spa allows the water to mirror the North Scottsdale's dramatic sunsets.  Natural desert plantings around the perimeter of the yard provide privacy from neighboring homes without encroaching on the brilliant sky views.  Laminar water jets are equipped with built-in LED lights that can be turned on to change colors in sync with the night sky, all while hitting the pool surface with a low rumble that gently muffles any noise from neighboring properties.  
This elevated area is the perfect spot to enjoy a conversation with family and friends over the fire.  The extra 18″ of elevation over the patio allows guests a better few of desert while Palo Verde trees and desert plantings create natural screens from windows across the arroyo.  The use of flagstone in a rectangular cut complements the glass tile while offering an easier transition for the eye as it moves to the desert.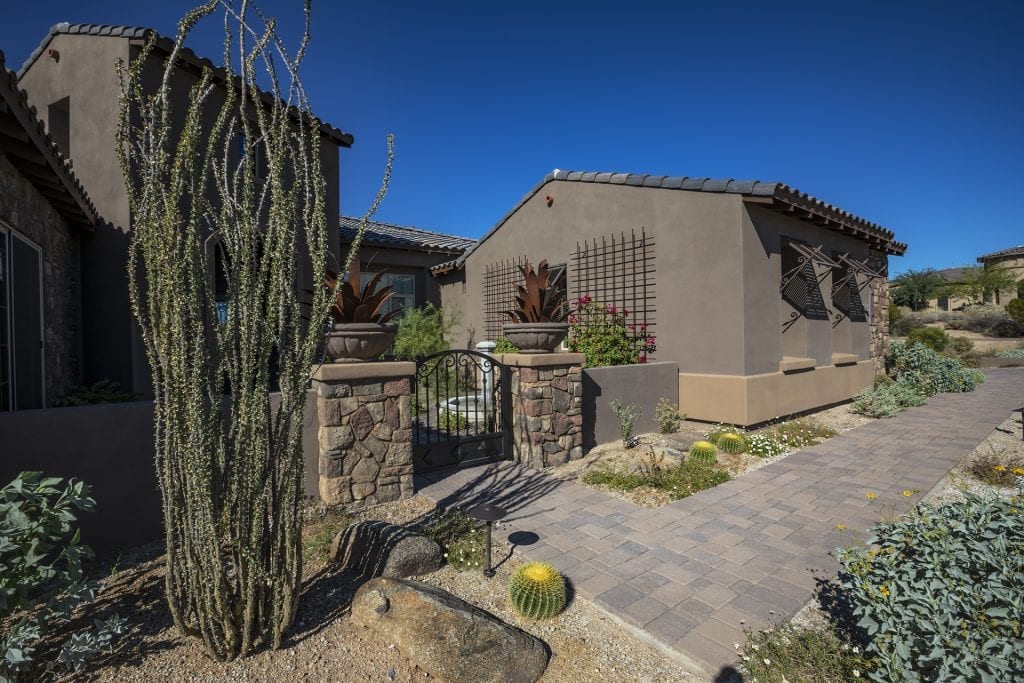 Native Sonoran plantings are used in the front yard to cleanly transition the home to the natural desert surrounding the property.  Low walls, with custom pillars and gate, help create a private courtyard that distinguishes this space a private area.  The use of architectural steel agave sculptures frames the entry, while lush bougainvillea, small desert palms, and a water feature provide the space with burst of color and movement that contrasts nicely against the desert neutrals.