PROJECT NAME: Eagle Feather
DESIGN CONSTRAINTS:
Significant Grade Changes, Existing Solid Granite Sub-Grade, Low Maintenance, Limited Space, Scottsdale NAOS & Re-Vegetation
DESIGN ELEMENTS:
Pool/Spa, Ramada and Full Outdoor Kitchen, Backyard Fireplace, Courtyard Fireplace, Natural Stone, Water Feature, Boulder Retaining Walls, Engineered Retaining Walls, Travertine Decking, Fire Pit, Artificial Turf, Natural Desert Landscaping, Pottery, Lighting
This client loves to entertain and loves to be outside.  This layout allows them to enjoy the benefits of living in the beautiful Sonoran Desert all year long.  Though the actual size of the lot is rather large, the city of Scottsdale limits the amount on of natural desert that is allowed to be disturbed or modified from its original state.  By utilizing a series of boulder and engineered masonry retaining walls we are able to maximize their livable area within the permitted envelope.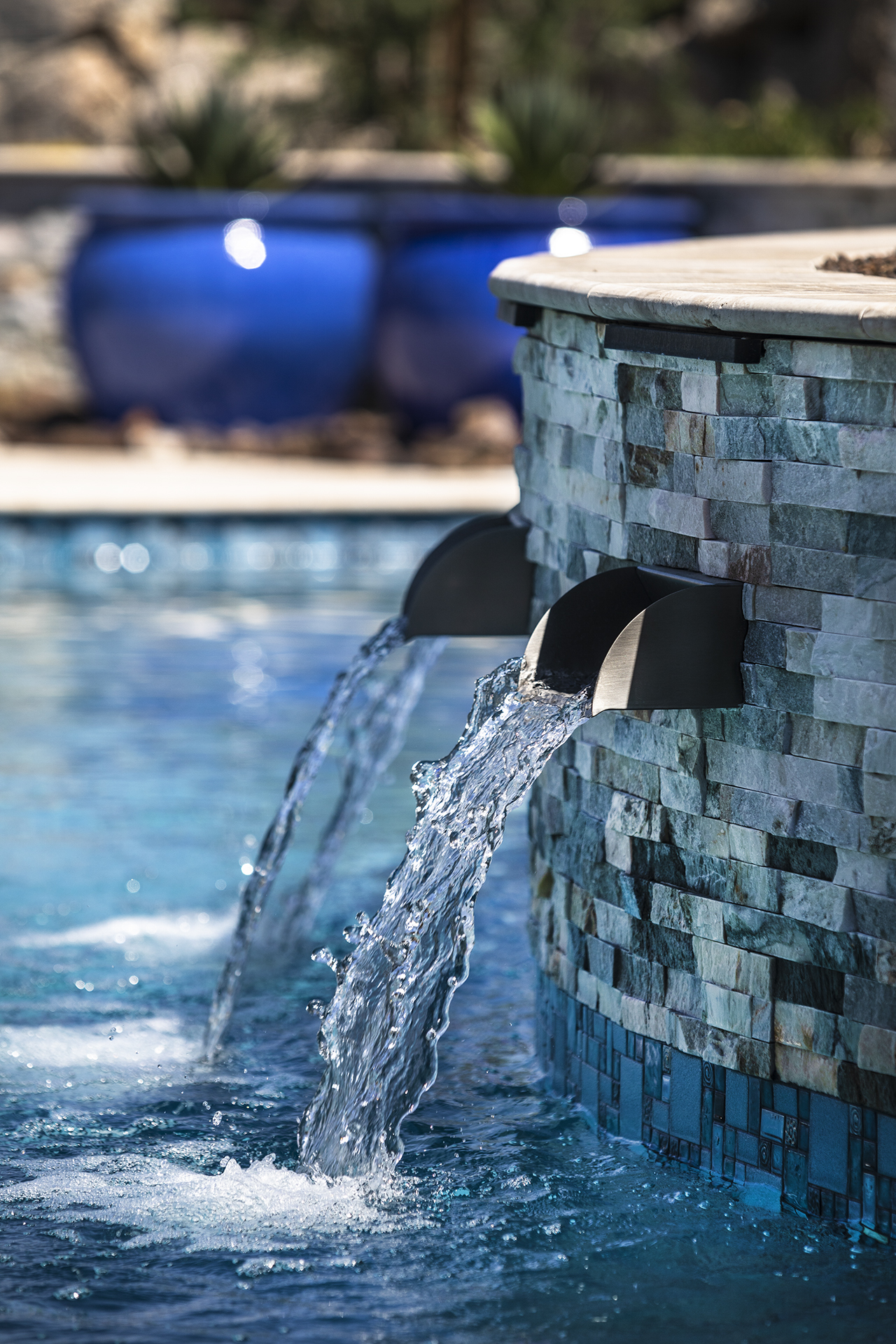 The water feature acts a focal point from the primary sight-line out of the house.  The use of natural stone allows the eye to transition from the glass tile below the desert landscape above.  
The ramada offers much needed shade and creates a great spot to dine and entertain.  Using the same stone as the water feature and retaining wall brings rhythm to the entire space, while the large outdoor kitchen offers multiple ways to prepare your favorite meal and plenty of storage for utensils.  All of this is enhanced by the TV and large fireplace, along with the tongue-in-groove ceiling and recessed lighting.  
A small grouping of glazed urns offers a pop of color against the cool grey tones of the stone.  The agaves provide structure and additional texture and create and enhanced endpoint to the retaining wall.